Celebrate like you are in Bavaria!
Can't be in Munich, Germany? No problem - we got you covered...
All you need to know about Oktoberfest in Las Vegas
Celebrity Keg Tappers every Friday and Saturday night, Live Entertainment nightly, Games, Oktoberfestbier, and so much more!
The Biermeister Band
January 1 - December 31
Get ready for our LIVE band "The Biermeister Band"! Classic Bavarian tunes will sound through the beer hall every day! The band plays Sun through Thu from 5PM-10PM and Fri & Sat from 6PM-11PM.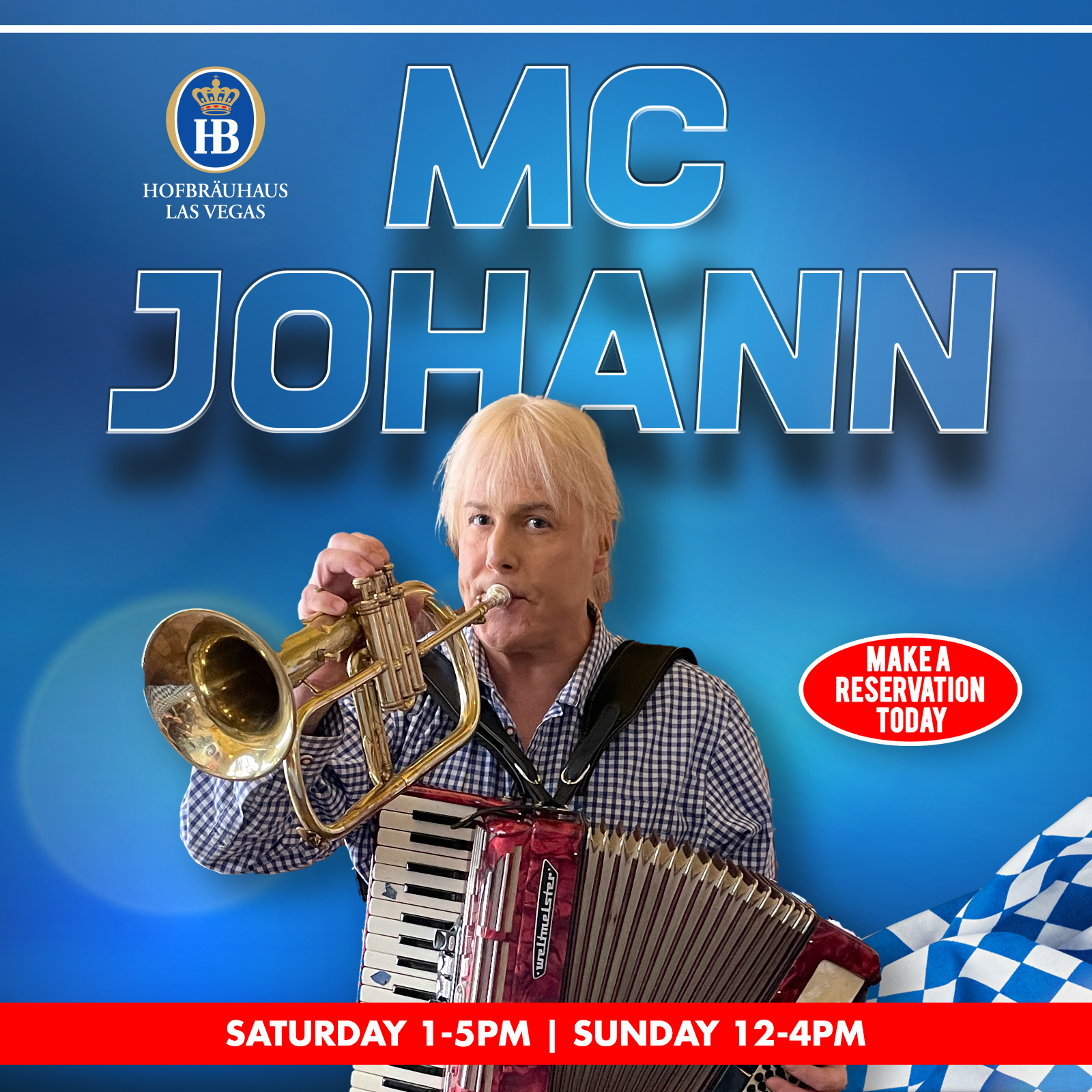 MC Johann - Weekend
May 19 - December 31
Every Saturday and Sunday afternoon our very own MC Johann will perform LIVE on stage to entertain you during Lunch! Saturdays from 1PM to 5PM and Sundays from noon to 4PM. Reserve NOW!
World Cup - Netherlands vs. Argentina
December 9 - December 9
Catch all the action LIVE on giant screens for the World Cup 2022 game Netherlands vs. Argentina on Friday, December 9th. Doors open at 11AM, so make your reservation NOW!
World Cup - England vs. France
December 10 - December 10
Catch all the action LIVE on giant screens for the World Cup 2022 game England vs. France on Saturday, December 10th. Doors open at 11AM, so make your reservation NOW!
Santa in the Haus
December 11 - December 11
We ho ho hope to see you on Sunday, December 11th, when we celebrate the "hoppiest" season of the year with a special visit from Santa Claus!
We also have the Ladies of the Knight in the Biergarten from 11AM to 3PM for their fabulous Sip & Shop Hockey Vendor Fair which gives you the perfect opportunity to do some Christmas shopping.
And, to top it all off, you can enjoy 20% off Food & Beverages ALL DAY long with your Local ID!
Christmas Eve 2022
December 24 - December 24
We are open from 11:00AM to 11:00PM on Christmas Eve, ready to serve you and your family a delicious Lunch or Dinner. Stay tuned for this year's menu, but don't wait too long an make your reservation NOW!
Christmas Day 2022
December 25 - December 25
On Christmas Day, bring the whole family and enjoy our homemade German Christmas Specials. Stay tuned for the menu, but go ahead and make your reservations NOW!
Midnight in Munich - New Year's Eve 2022
December 31 - December 31
Come to our Haus and celebrate midnight in Munich, which is 3:00PM Las Vegas time, with us!
The Party starts at 1:00PM, so make your reservations today as space is limited!
Super Sunday 2023
February 12 - February 12
Celebrate the Big Game Bavarian-style with our Super Sunday party package! Tickets are on sale NOW and include an open bar, all-you-can-eat, and guaranteed seating. Click the button below to learn more and to purchase your tickets!