How Biergartens Came to Be
Simply put, a Beer Garden is an outdoor area that serves beer and food over communal tables. Music and games may also be part of the atmosphere.
But at our Haus a Beer Garden is so much more.
First of all, we call it a Biergarten as it was Munich (the German state of Bavaria's capital) that brought this outdoor oasis to life in the 19th century. Although not the native tongue of most, this moniker is recognized and used worldwide.
Today Bavarian Biergartens are lively retreats bursting with the spirit of revelry. Fueled by our famous brews and hospitality, these open-air sanctuaries let guests soak in our heritage while surrounded by blue skies.
How did the party get from the inside, out?
It would seem as if outdoor options have been around since the beginning of time, right? Why contain something as irresistible as a Bavarian brew-ha-ha? Turns out, fire was the culprit.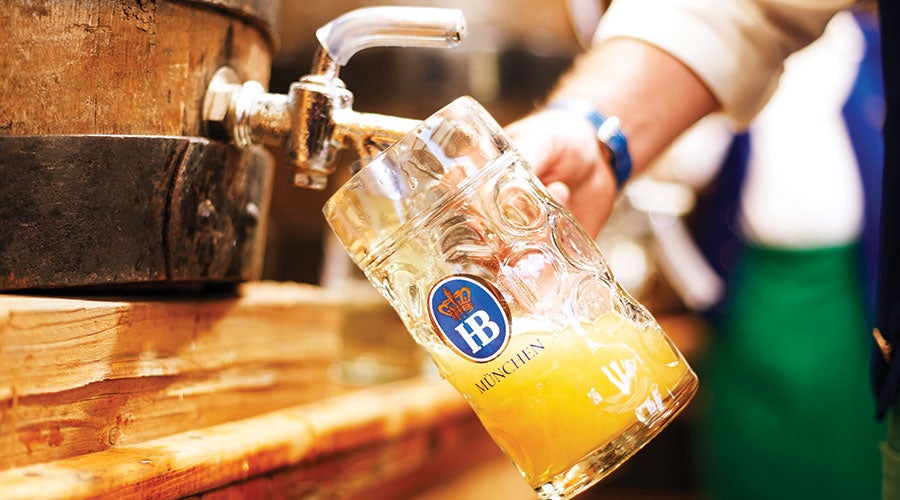 The 16th century saw brewing limitations being placed on beer due to several blazes erupting when boiling mashed grain into wort during summertime brewing. Albert V had an idea. He declared Bavarian brewing production could only take place between the feast of St. Michael (September 29) through the feast of St. George (April 23).
Can you image how the brewers felt after being told they couldn't brew beer for five months? And let's not even talk about the distraught beer drinkers. Fortunately, large breweries came up with an ingenious way to keep their beer cool and drinkable during warm summer months. They dug cellars in the banks of the Isar River!
It didn't stop there. Brewers got even craftier with their cooling methods by covering the river banks with gravel and planting chestnut trees. It didn't take long to see the opportunity waiting beneath the shade of the sprawling branches. Seating was soon a part of the scenery, and voila! The Biergarten was born.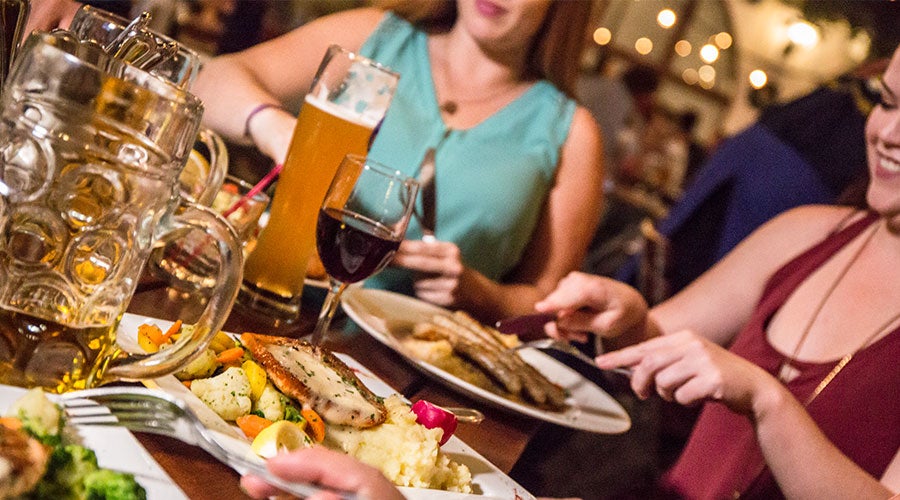 Food service was quick to follow as Biergartens quickly became popular spots for a picnic. This caused a bit of an issue with smaller breweries unable to compete with food service, so Maximillian I agreed to let guests bring in their own food. This decree is obviously no longer enforced; however, authentic fare is still a central part of the Biergarten experience…as is Gemütlichkeit, a feeling of warmth and friendliness.
It is the aura of Gemütlichkeit that reigns today. Biergartens across the world all capture the essence of what began in Bavaria centuries ago. Stepping into a Biergarten, you're immediately welcomed into a tradition of excellence, community and a shared love of amazing food, beer and song.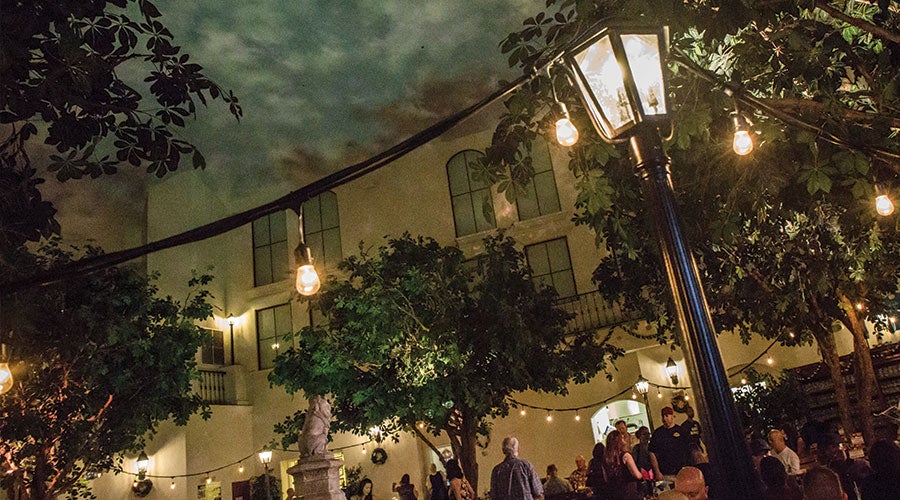 This spirit encouraged us to take our own Biergarten to the next level. We've enhanced our atmosphere with glittering lights for even more of the mood created by our predecessors. You'll still experience the same great brew, food and service, but with an added slice of paradise. Want to know more? Check out this blog about our recent enhancements.