Oh Yes, It's Ladies Night
It should come as no surprise that February is one of the most popular months for marriage proposals in the United States, with Valentine's Day ranking in the top 4 of holidays to get engaged (Christmas Eve, Christmas Day and New Year's Day make up the other top slots).
Now that the yesses have been proclaimed and the bling has been splashed across Instagram, what's next?
The planning. But we're not talking about the Bride's responsibilities. We mean the fun stuff.
Bachelorette Party!!
This rite of passage goes all the way back to Sparta for bachelors, but it wasn't until the 1960s that ladies started getting their piece of the final fling. What began as quaint luncheons or tea with a group of girlfriends has since evolved into everything from spa days and dance parties to bier-chugging contests.
Yes, we said bier chugging.
At least that's how we do it at Hofbrauhaus Las Vegas. Every year thousands of bachelorettes and their entourage descend upon Sin City to embark on this time-honored tradition, and we welcome them with open arms and full steins. Our bier-chugging competitions let the ladies show who's boss when it comes to the best beers in Las Vegas.
But we didn't forget about the dancing.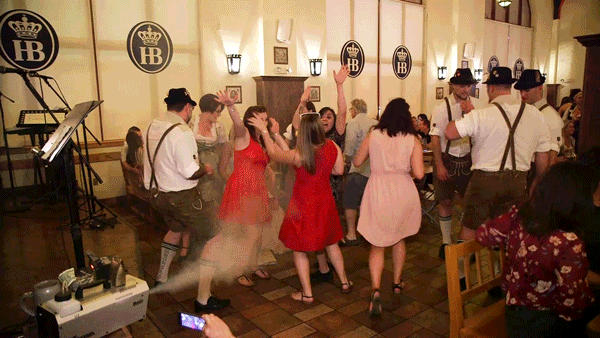 While nightclubs offer the chance to be shoulder-to-shoulder with other sweaty patrons while you attempt to move to the sounds of today's Top 40, our expansive Bier Hall and Biergarten serve as your stomping grounds. Even our Bier Hall benches beg to be stood on as you dance and sway to international and Bavarian hits from our live band.
What about the sausages?
Get your minds out of the gutter! We mean the world-famous sausages that have been making guests go wild since the 16th century. From chicken and pork to veal and vegetarian, our big brats (and other Bavarian favorites) promise to satisfy even the most discerning Bride and her tribe.
So let's recap.
Bachelorettes. Bier-Chugging. Benches. Live Bands. Bavarian Food.
Yep, sounds like a party to us!
If you're the proud new owner of something shiny or just got asked to be the MOH (Maid Of Honor), give us a call or reserve here. There's always room on our list for you!