Hop on down with your peeps to our Haus this Easter Sunday!
We will offer up a bounty of traditional Bavarian menu items on Sunday, April 9th served alongside our world-famous assortment of beers imported directly from Munich, Germany.
Spargelsuppe "Schwarzwälder Art"
Asparagus soup "Black Forest" garnished with ham, croutons, and chives.
Schwarzwälder Schinken umwickelter Belgischer Chicorée
Black Forest Ham wrapped Belgian Endive served in Appenzeller cheese sauce.
Hähnchenschnitzel mit Spargel
Breaded chicken breast served with green asparagus, Parsley Yukon gold potatoes, and hollandaise sauce.
Gefüllte Vanillecrêpes
Homemade Crêpes filled with vanilla cream and strawberries, served with vanilla ice cream.
Cocktail des Tages
Spring Blossom Ketel One Peach & Orange Blossom vodka with peach nectarine Sparkling Ice, served in a 15 oz hurricane glass and garnished with an orange slice.
The Biermeister Band
January 1 - December 31
Get ready for our LIVE band "The Biermeister Band"! Classic Bavarian tunes will sound through the beer hall every day! The band plays Sun through Thu from 5PM-10PM and Fri & Sat from 6PM-11PM.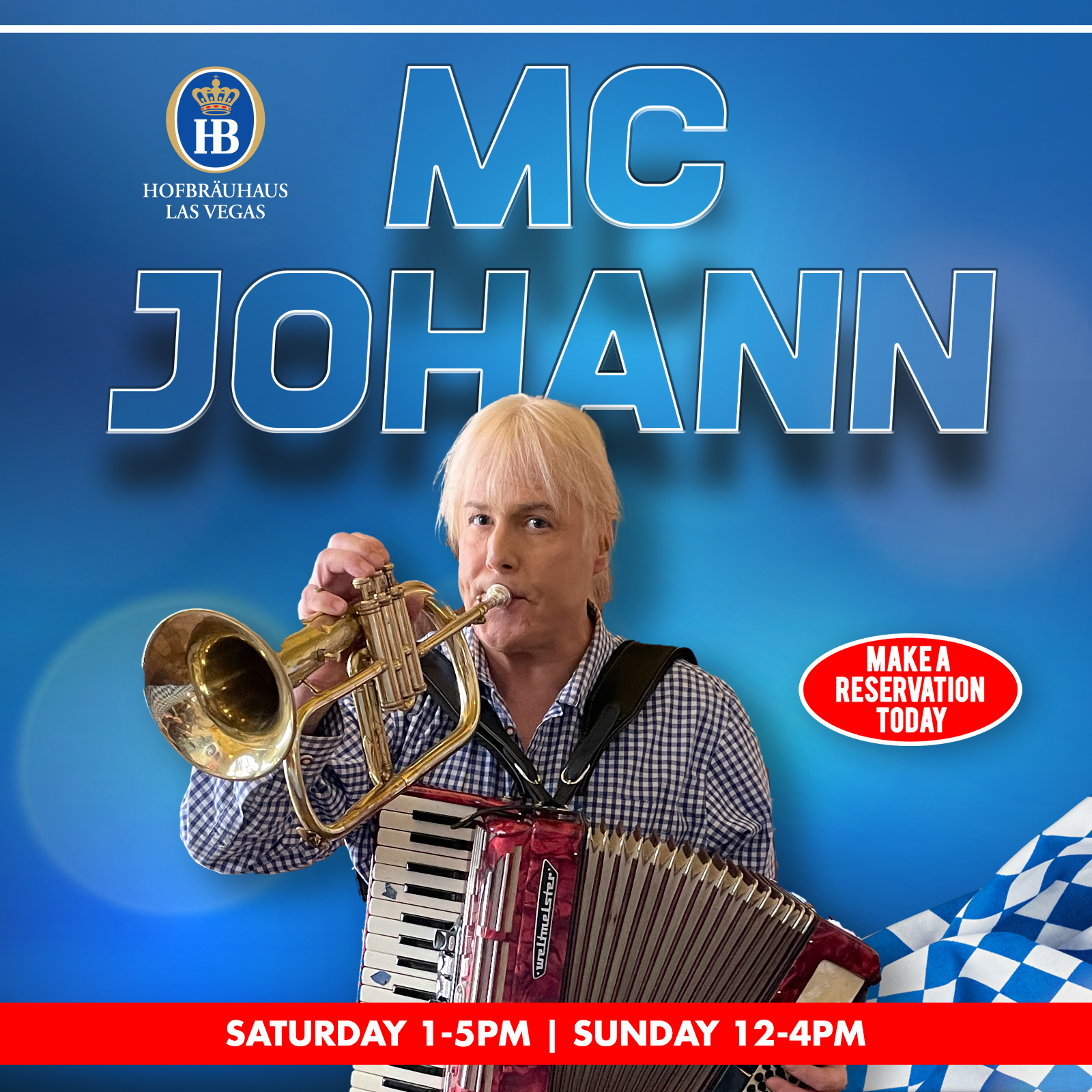 MC Johann - Weekend
May 19 - December 31
Every Saturday and Sunday afternoon our very own MC Johann will perform LIVE on stage to entertain you during Lunch! Saturdays from 1PM to 5PM and Sundays from noon to 4PM. Reserve NOW!
Oktoberfest 2023
September 8 - October 31
Are you ready for the world's biggest party? Oktoberfest in Las Vegas is just around the corner!