Are You A Shoe-In?
From Cinderella to the woman who lived in the shoe, footwear has spun some mighty tales throughout history. At Hofbrauhaus Las Vegas, our own Das Boot has a story that has helped many guests drink happily ever after.
What is Das Boot?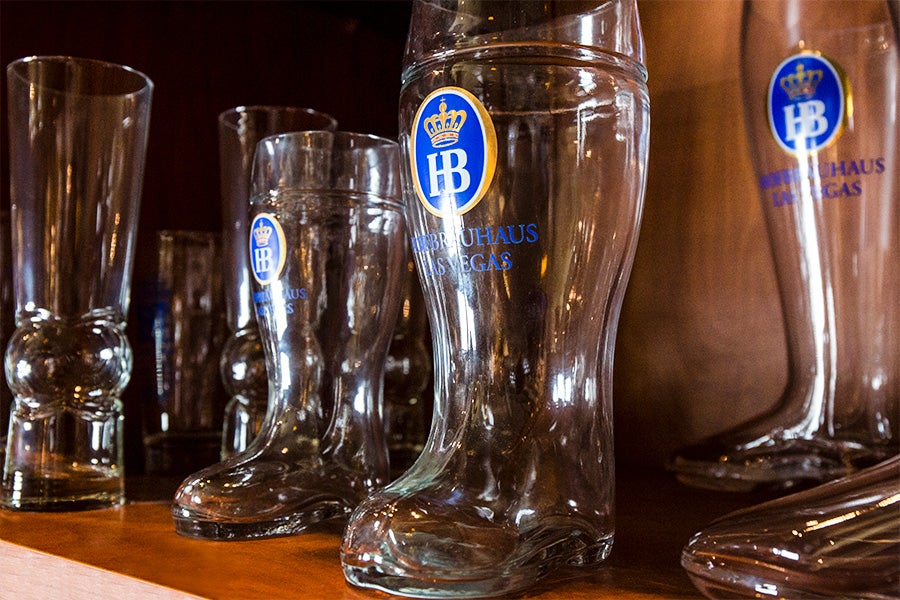 At our Haus Das Boot is pretty much what it sounds like: a drinking vessel shaped like a tall boot (It has nothing to do with the 1981 film of the same name, which actually translates to The Boat). Das Boots are also known as Beer Boots or Bierstiefeln.
Why would anyone drink from a boot?
That's a good question and one with a couple of different theories. The most popular belief is that a Prussian general promised his troops that he would drink from his boot if they came out victorious in battle. Well, they did, and since the general wanted to make good on his word without discovering what his own feet tasted like (or spoiling the beer) he had a boot made out of glass for easier drinking.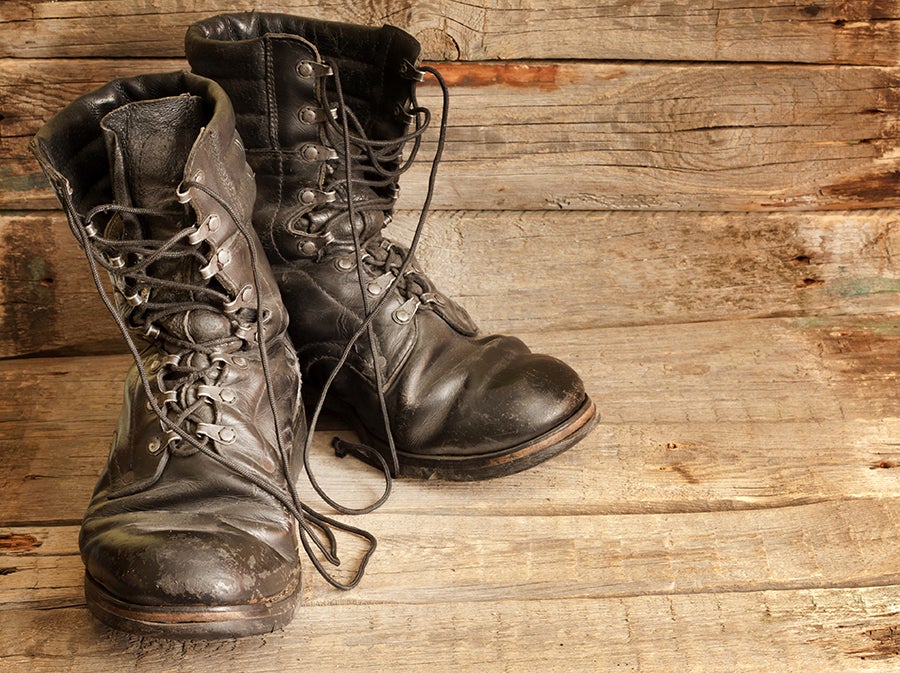 Another story declares that German soldiers in World War I would pass around a leather boot filled with beer due to lack of glassware. The soldiers would flick the boot before taking a swig for good luck, and again after to wish the next soldier good luck.
There is also the one that may just be the originator of hazing. Back when leather footwear was introduced, soldiers, club members and other social groups would encourage their most unsavory member to take off their shoe, fill it with beer and serve it to the new recruits as a test of loyalty. Who needs streaking through the quad when you have sweaty-foot beer?
Then there's Beerfest, the movie.
If you hadn't heard about Das Boot from any of the above, you may have become familiar with the drinking boot tradition from the 2006 movie Beerfest. This brew-mance tells the story of two brothers who travel to Munich's famous Oktoberfest to scatter their father's ashes on the famous Theresienwiese.
After becoming the center of an Oktoberfest scuffle the brothers find themselves taking part in an underground drinking tournament known as Beerfest…and this is where the boots come in.
We don't want to give much more of the plot away, but the rest of the movie is basically a series of beer-filled face-offs that culminate in a final battle between Germany and the United States. The team members from each side take turns guzzling beer from the boot as fast as they can—no drop can be left behind!
Think you can do it?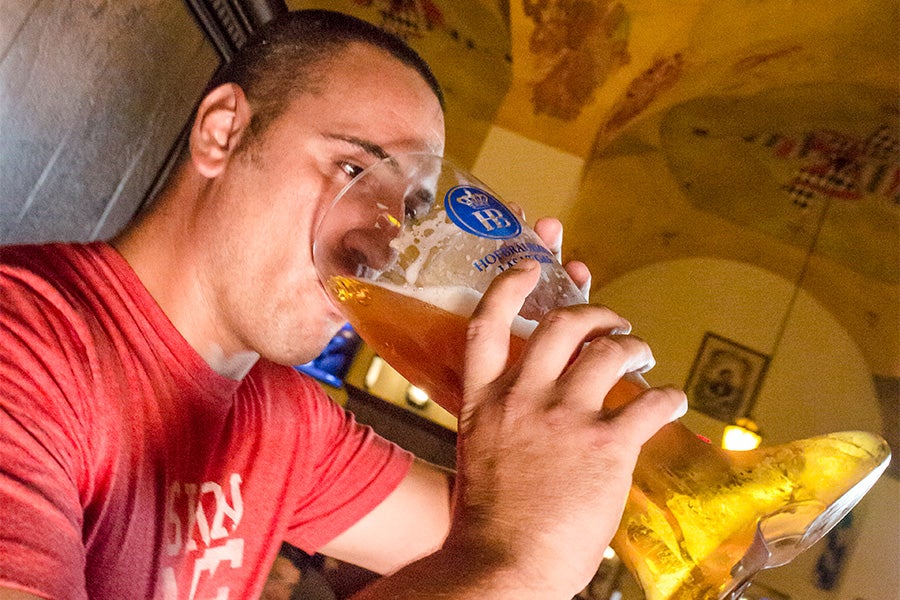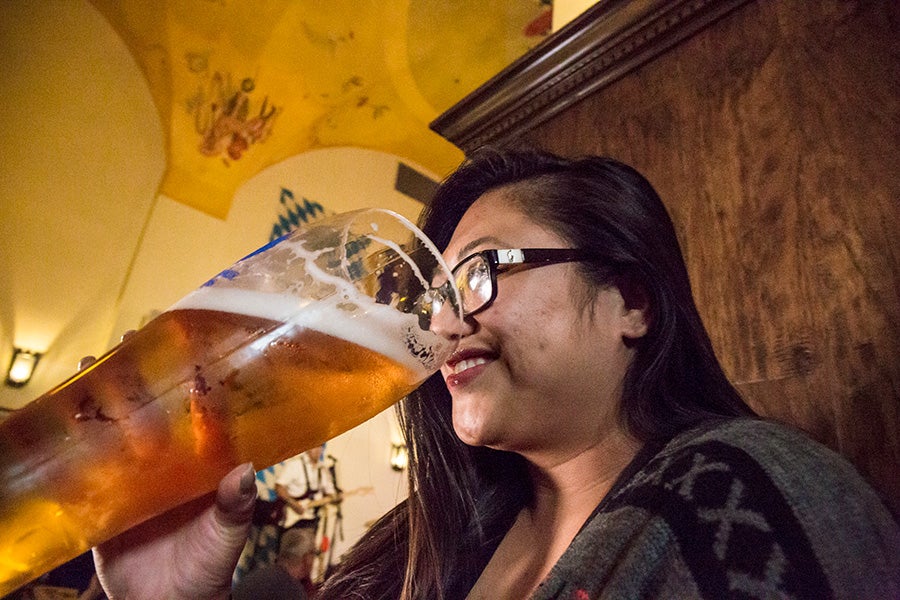 It may look "easy" but there is a method to drinking from a giant boot. First, we have to say that we do not recommend keeping the boot to yourself. It is best practice to share Das Boot with fellow beer drinkers, so get into a circle or line up with your friends, take a sip of delicious brew and pass it to the next person. You can even flick it if you're so inclined. But you can't set the boot down until all of the beer is gone.
But don't forget to turn the toe!
If you've seen Beerfest you may remember Steve Lemme's character, Fink, calling out orders to spin it! Much like a coxswain in a rowboat, the anchor drinker called out crucial moves that could make or break the final outcome. We'll let you see how Fink did for yourself, but we will tell you why spinning is so important.
When drinking from a boot (or anything) we're sure you'd rather not wear any of the precious contents, right? Well, in a Bierstiefeln a pocket of beer is created in the toe. If the toe is pointed upward while you are nearing the end, the beer pocket will cause an eruption of sorts and beer will end up all over your face. That's just wasteful! Turning the boot to either the right or left at just the right moment is imperative!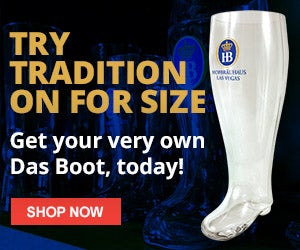 At our Haus, Das Boot is one of the most unique ways to enjoy the best beer in Las Vegas. They come in various sizes and materials (no leather here!), and are a great way to share in the Bavarian way of beer drinking. Prost!
What are your favorite ways to have a Hofbrau brew? Share in the comments!