Tony Sinzger, Hofbräuhaus Las Vegas' Vice President and the Haus' resident soccer fanatic, had predicted a big win by Germany in the 2018 FIFA World Cup.
Unfortunately, Germany is now out of the running and a few more of his other bracket predictions included upsets as well, but that doesn't mean the Haus is any less fun.
Tony is now cheering for Team Belgium to make it to the World Cup finals as passionate soccer fans continue to fill the Haus each week. "Belgium plays very attractive soccer," says Tony. "They always have good goal chances and I just watching them play."
While Tony and the Hofbräuhaus Las Vegas team are now cheering for Belgium, Tony predicts France will take home the World Cup because they are playing so well right now. "It's all so exciting and unpredictable, actually," says Tony.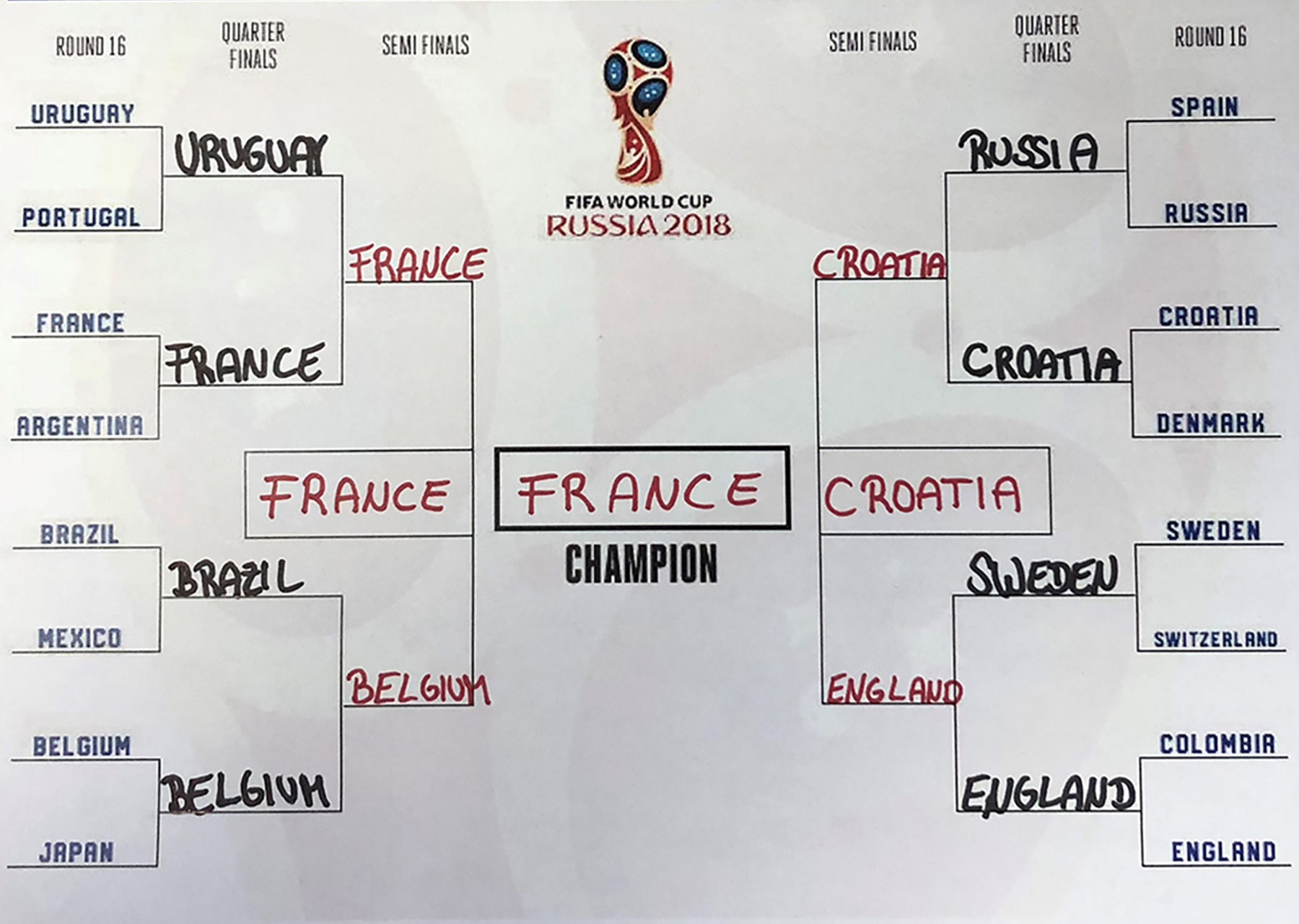 Take a look at Tony's revised bracket above. Hopefully, his latest round of predictions will fare better than the last!
Can team Belgium take Brazil in the Quarter Finals this Friday? Come down to Hofbräuhaus to find out and catch the action live in the Bavarian Beer Hall or indoor Beer Garden across the numerous large screen televisions on display. And, enjoy a stein with Tony while you cheer on the remaining teams.
In addition to Friday's Brazil vs. Belgium game, here's an additional list of World Cup games you'll be able to find on at the Haus:
Quarter Finals
11 a.m. Friday, July 6
Brazil vs. Belgium
11 a.m. Saturday, July 7
Russia vs. Croatia
Semi Finals
11 a.m. Tuesday, July 10
TBD vs. TBD
11 a.m. Wednesday, July 11
TBD vs. TBD
Final
8 a.m. Sunday, July 15
TBD vs. TBD